Ed Hardy Eau De Parfum Spray 1 oz
Ed Hardy by Christian Audigier Eau De Parfum Spray 1 oz description.
Launched in 2008, this trendy scent is a fruity floral with notes of apple soufflé, mango, wild strawberry, rudy red grapefruit, freesia petals, watery muguet, linden blossom, warm amber, musk, tonka bean and vanilla pudding.
Summary about Ed Hardy Eau De Parfum Spray 1 oz description.
Name:
Ed Hardy Eau De Parfum Spray 1 oz
Brand:
Christian Audigier
Gender: Women
Type/Size: Eau De Parfum Spray 1 oz
User manual Ed Hardy by Christian Audigier Eau De Parfum Spray 1 oz.
You've probably seen it – your mom, grandmom, or friends dabbing perfume on their wrists and rubbing them together. It's one of the first fragrance habits we ever learned (and one of the hardest to break). But rubbing Ed Hardy perfume into your skin causes the top notes to fade and evaporate before they can settle. This means the notes that made you fall for the scent to begin with never truly translate onto your skin. You want your Dana perfume to slowly mix with your skin's natural oils – it's what makes your scent last and smell slightly unique to you. Also, rubbing Ed Hardy by Christian Audigier Eau De Parfum Spray 1 oz perfume onto your skin causes friction, which can heat up and change the scent. So how should you apply your perfume? Focus on the spots your fragrance loves most – your pulse points.
First things first – what and where are your pulse points? Your pulse points, located on the inside of your wrists, inner elbows, below your belly button, and behind your ear lobes and knees, are where your veins sit closest to your skin, so you can (literally) feel your pulse. These warm spots on your body emit extra body heat, which helps to naturally diffuse a scent. To apply perfume to your pulse points, spritz or dab it (remember, don't rub) on a few or all of them, and your Ed Hardy by Christian Audigier Eau De Parfum Spray 1 oz fragrance will linger all day.
Spritz, then walk into your Ed Hardy Eau De Parfum Spray 1 oz fragrance.
Ever find yourself lost in someone else's fragrance cloud? Not fun, right? The key to keeping your Ed Hardy by Christian Audigier Eau De Parfum Spray 1 oz fragrance pleasant and not overpowering is to diffuse it all over, and not concentrate it in one (or every) area. You want your Ed Hardy fragrance to complement you and enhance your natural scent – not completely mask it. Instead of spraying perfume all over, dab it onto your pulse points and then do what we call a "spritz and step." Spray your Christian Audigier fragrance in front of you, then walk right into it and back out. This will leave a light layer on your clothes, and make sure you're covered (without overdoing it).
Feel free to spray Ed Hardy Eau De Parfum Spray 1 oz fragrance on your clothes.
Speaking of clothes, applying a little perfume to your clothing is a great way to keep your scent going all day long – just make sure it's not something that can stain (like silk). Christian Audigier fragrance interacts with fabrics differently than skin, so it'll probably smell lighter or slightly different – but still like your favorite perfume. Try spritzing some Ed Hardy perfume in the air and waving your clothes around in it, or spritzing a bit on the inner lining of your coat or blazer. The result? A light wafting of your favorite perfume that will travel with you, wherever you go.
How to Store Ed Hardy by Christian Audigier Eau De Parfum Spray 1 oz.
The best way to keep Ed Hardy Eau De Parfum Spray 1 oz perfume fresh for as long as possible is to hide it away – seriously. Dark, dry places are the best go-to's for fragrance storage. The catacombs of a closet or a dark box are ideal for storing a brand new bottle of perfume.
But how long will the new Christian Audigier fragrance last? Perfumes not only dilute and lose their flavorful allure over time, but discoloration and degradation can lead to bad-smelling perfume. If stored incorrectly, perfume can start to go bad after a few months.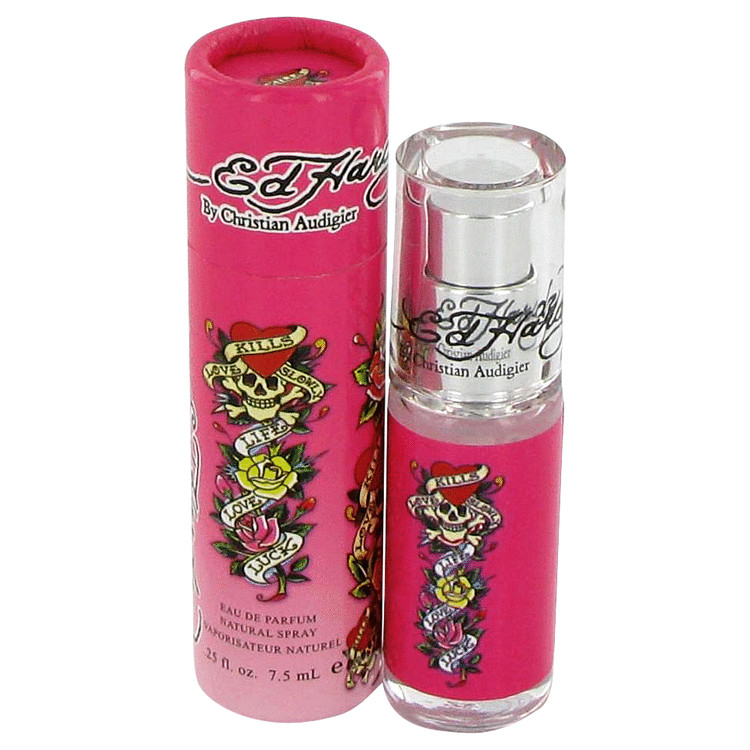 Ed Hardy by Christian Audigier
How to store Ed Hardy Eau De Parfum Spray 1 oz perfume for her:
Keep the Bottle Ed Hardy by Christian Audigier Eau De Parfum Spray 1 oz Closed Until the First Spritz.
It's important to note that Ed Hardy perfume will stay pristine until it's opened. Introducing a bottle of fragrance to oxygen causes the scent inside to dilute and become oxidized. With more oxygen and less scent in the bottle, it's only natural the smell will diffuse. The clock starts ticking after the first use, so be mindful of when you debut the new fragrance.
Store Your Ed Hardy Eau De Parfum Spray 1 oz Fragrance in a Dry place.
H2O is a force to reckon with. Similar to other substances, water damage will destroy a Christian Audigier fragrance. Humidity affects a perfume's make-up and can cause unwanted chemical reactions to occur.
This can be tough to avoid if you're in a humid environment so if this is the case be extra cognizant. Have a room with a dehumidifier? This is the ideal place to store your Ed Hardy fragrances.
Store Ed Hardy Eau De Parfum Spray 1 oz in a Dark Place.
Ed Hardy Perfume bottles can be as extravagant as mini chandeliers – when the sun hits them, rainbows and crystalline visages spray across your bedroom. However, they shouldn't be kept as a centerpiece on your dresser.
Unfortunately, the introduction of light breaks down a scented liquid's makeup and can melt its bottle too if it's plastic. To avoid altering the sensitive DNA of a fragrance, store your Christian Audigier fragrance bottle in a place free of both natural and man-made light.
Avoid Storing Ed Hardy Eau De Parfum Spray 1 oz Perfume Men in the Bathroom.
Yes, it's called eau de toilette. No, it shouldn't be stored in the bathroom. The most common storage mistake of fragrance owners is keeping Ed Hardy by Christian Audigier bottles in the bathroom.
Reiterating the need to store your fragrances in a dry place, bathrooms have both extreme humidity and temperature fluctuations – the perfect blend for a Ed Hardy perfume graveyard. Instead, look for a closet or cupboard outside of the bathroom to store your perfume.
Keep the Ed Hardy Eau De Parfum Spray 1 oz Perfume Bottle Sealed When Not in Use.
Oxygen is perfume's worst enemy. Hurrying to work or the club is a typical ritual we all go through. While you may leave behind your wallet or keys, don't forget to cap that bottle of perfume. Leaving a bottle unhinged for even a couple hours can start to ruin the mixture's balance and catalyze its evaporation.
Avoid Excessive Shaking of the Ed Hardy Perfume Bottle.
While it may seem like a little shake can help jolt a perfume's scent, it does the exact opposite. Similar to our pesky friend oxygen, agitating a fragrance introduces unwanted oxidation via bubbles into our favorite scents.
Not to mention, most perfumes are made with delicate chemical bonds and intricate mixtures that can be broken easily. The combination of shaking and easily compromised formulas can leave you with an unwanted science fair project rather an attractive accessory.
Keep Your Ed Hardy Perfume for her in Its Original Bottle.
Remember going to Grandma's house and seeing extravagant bottles lined in front of the mirror? While they are beautiful ornaments, they are not the best for the perfume they contain.
Decorative perfume bottles are stellar bathroom decorations but can be one of the fastest ways to sour a sent. The original bottles for all perfumes and colognes are made to be airtight and have a specific spray-head to disperse just the right amount of scent and prevent contamination with air.
Keep Ed Hardy by Christian Audigier Perfume for her in the Original Box.
When in doubt, look no further than the Ed Hardy by Christian Audigier fragrance's original box. While the cardboard may seem flimsy and irrelevant, these boxes were made to hold the aromatic elixir within.
Storing a Ed Hardy by Christian Audigier perfume bottle within the original box can drastically increase the life of a scent. When paired with a closet or dark cupboard, you have a fail-safe method of essence endurance.
Store Ed Hardy by Christian Audigier Eau De Parfum Spray 1 oz on a Low-Level Shelf.
While this may seem obvious, it's an important tip to keep top of mind. Keeping a top-tier fragrance on the top shelf is a recipe for downfall. Spilling a Ed Hardy by Christian Audigier bottle of perfume is sad and unnecessary and can leave a room smelling strong for weeks.
Even if the bottle doesn't break, the turbulence upon landing can break chemical bonds and wreck a scent. Aim low when storing your perfume in a shelved area.
Use Smaller Ed Hardy by Christian Audigier perfume Vessels When Traveling.
Business trip? Destination wedding? You're going to want to keep your Ed Hardy by Christian Audigier fragrances as fresh as your look when traveling. To ensure the entire supply doesn't go bad, purchase a smaller version of your Ed Hardy by Christian Audigier fragrance – it will save money in the long run.
As we mentioned before, taking the cap off of your perfume will ultimately start the decay process of the fragrance. By purchasing a travel-sized bottle, you won't have to worry about air exposure.
Ed Hardy by Christian Audigier
Keep the Ed Hardy Eau De Parfum Spray 1 oz perfume bottle at a stable temperature.
Keep your Ed Hardy perfume in someplace cool and constant. Make sure your bottle is in a spot free of polar temperatures – whether hot or cold. 60 degrees is the sweet spot you should aim for.
Check Your Ed Hardy Eau De Parfum Spray 1 oz Fragrance for Discoloration.
Not so much a storage tip, but a good habit to keep. Discoloration in a fragrance can mean that any of the aforementioned precautions went a bit haywire. It all depends on the ingredients.
A blend made with natural ingredients will darken over time, but its smell will remain unphased. Synthetic fragrances, on the other hand, are not meant to discolor or turn oily. If such a transformation occurs, it's a signal that your fragrance could lose its pleasing scent and longevity.
Store Your Ed Hardy Perfume In an Air-Tight Container.
For those truly special bottles, you'll want to go above and beyond when ensuring their longevity. The best way to do this is by double packing them. Keep them in their original box and then stuff the precious cargo into an air-tight bag – the more opaque the better.
The mix of no air and zero light will guarantee minimum oxidation levels, protecting your go-to fragrance from harmful rays and leaving the scent smelling great for a good spell of time.
Reference source:
Buy Ed Hardy Eau De Parfum Spray 1 oz in New York and US.
Buy Ed Hardy Eau De Parfum Spray 1 oz delivery to the address in New York NY city from 48-72 hours.
Buy Ed Hardy Eau De Parfum Spray 1 oz Delivery to US (2 – 7 business days)
Alabama, Alaska, Arizona, Arkansas, California, Colorado, Connecticut, Columbia, Florida, Georgia, Hawaii, Idaho, Illinois, Indiana, Iowa, Kansas, Kentucky, Louisiana, Maryland, Massachusetts, Michigan, Minnesota, Mississippi, Missouri, Montana, Nebraska, Nevada, New Hampshire, New Jersey, New Mexico, New York, North Carolina, North Dakota, Ohio, Oklahoma, Oregon, Pennsylvania, Rhode Island, South Carolina, South Dakota, Tennessee, Texas, Utah, Virginia, Washington, Wisconsin.
Reviews Ed Hardy Eau De Parfum Spray 1 oz.